President:  Sharon Keating –  sjjkeating@hotmail.com
Membership:   Kathi Dew – howardkathidew@msn.com
Welcome,
Thank you for visiting our website.  We are very proud of our Bend AAUW B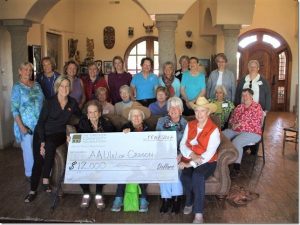 ranch.  Founded in Bend in 1931, we are a non-partisan group focused on advancing equity for women and girls.
With over 70 members we are dynamic.  And because we are part of a national organization we not only can raise awareness of issues, we can effect real change on a state and national level.
While our yearly goals may change, there are three key elements we incorporate in all we do: Have Fun, Do Good and Learn.
We welcome everyone, men and women, who meet AAUW qualifications (holder of an Associate's Degree or higher) to join.  While you are at our website check out all we have to offer.  Or come and attend a meeting as our guest and see for yourself why you should consider joining Bend AAUW.
Sincerely,
Sharon Keating
President
For more information on membership or to make arrangements to attend please contact Kathi Dew howardkathidew@msn.com