We Have Fun
Year-round members are given multiple opportunities to come together outside of monthly meeting by attending smaller more social functions.  Is there something you would like to take part in?
Let's Do Lunch   – Once a month, whoever has the time and inclination, gathers for a leisurely lunch at a local restaurant… European style.  Over our plates of delicious Bend-fare, we discuss whatever comes to mind.  Leader – Kathi Dew, kdew@bendbroadband.com
Theatre Group  – We love theater and take advantage of all Bend has to offer.  Join us when you can, or become a regular.  Joan Hinds jx2hinds@bendbroadband.com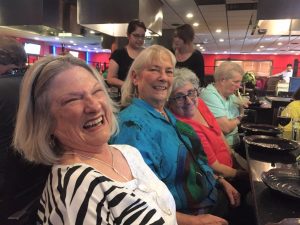 Wine and Dine Out– Monthly excursions to eateries in Central Oregon, featuring good food and good company for members and their guests.  Linda Gardner – trixytazzy@live.com
Holiday Gathering – Each year we as a group gather to celebrate the winter holiday season and the importance of friendships.  Arrangements are in the process of being finalized. (contact info to come)
Evening Book Group – This groups meets monthly  on the 4th Monday from September through May.  Books are chosen by the group and include the Novel Idea selection of the Deschutes Public Library as well as a selection from the Library's" Author!Author!" series.  We focus on fiction, but include one non-fiction choice each year. See the current reading list here.  Leader – Ann Evensen  evensenann@bendcable.com
Noon Book Group – This group meets monthly at members's homes on the 3rd Monday at noon during the months of September through May.  Books are chosen by the group.  We always have an annual reading of a play during the December gathering.