We Continue to Learn!
Learning is a lifelong passion for most of our members.  Whether we are learning about barriers that keep women and girls from their full potential or discovering more about our own community seek out learning opportunities for our members on a monthly and/or seasonal basis.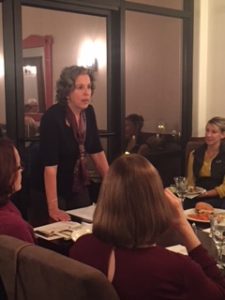 Programs – See the Branch Meetings page for a list up our upcoming programs.
Wine, Women and Wisdom was a big success in October, with a presentation by Diane Allen, about tapping into your "A Game."  We introduced several prospective new members to the organization through this avenue.  Our meeting was held at the Moose Sisters, in their small private room. We did gain friends, perhaps later to be members, with the event.  We are looking for other  venues for this small series, which will have at least 2 more meetings during the year.  Contact Evie Lamb, with your ideas, evelynlamb@gmail.com.
Great Decisions –  a program of the Foreign Policy Association (FPA) that studies contemporary world issues using educational materials purchased from the FPA.  These reading materials and accompanying video assure informed thought provoking conversations of these important topics.  We meet monthly September through May on the 3rd Tuesday at noon.  Laurel Sorel – sorlieol@bendcable.com